This post contains affiliate links.
I was surprised and overjoyed that I was the 2nd place guest blogging contest winner for the BlogEngage May 2011 Guest Blogging contest.  This came with a cool $150 cash winnings and much of that will be recycled for an upcoming contest I will be doing on DragonBlogger.com in August. 
BlogEngage also is providing even more value as of late since I signed up for Business Membership for the RSS Syndication Service, this makes me a Business Level sponsor in all upcoming contests which has already netted me 2 site reviews from the June contest.  The attention, publicity and backlinks alone are a good value and I am looking forward to seeing how many sites showcase DragonBlogger.com as a result of being a top level sponsor and membership plan in the BlogEngage RSS Syndication service which does all of this plus automatically submits my articles to 6 directories for backlinks, exposure and such.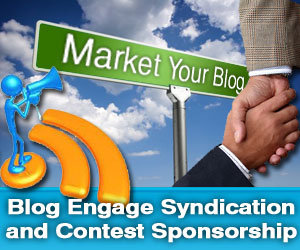 BlogEngage rocks and I will be entering future contests I just needed to space out a bit since I will be taking a quite a bit of vacation time in June/July and didn't want to enter any more guest blogging contests until I had enough time to devote to article promotion and such.
-Justin Germino