This post contains affiliate links.
This is a Sponsored post written by me on behalf of Jack in the Box for SocialSpark. All opinions are 100% mine.
Ever since I moved to Arizona in 1995 and I had tried a Jumbo Jack for the first time in November of 1995 (never had one before that) they were my favorite fast food burger of choice whenever I had a fast food craving. And throughout the years I have had my fair share of Jack in the Box food often eating more than I should.
Years ago when I used to help my wife when she ran her Music Production company back in 2008-2009 we used to stay out on Friday and Saturday nights until 2 or 3am and the only mean was dinner at 4pm the night before. So on the way home which was a 45 minute drive we often would stop at Jack in the Box before hitting the freeway since it was in the same plaza as Club Red and I would pick up 2 tacos and a Jumbo Jack to much on on the way home.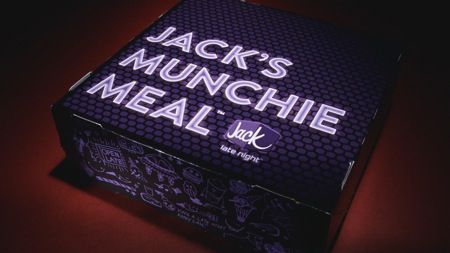 Well now, I see they have the new Jacks Munchie Meals which for only $6 plus tax has enough food to make a very robust meal or satisfy even the most intense midnight craving.
You can choose one of the following styles of Jack's Munchie Meal™
The Stacked Grilled Cheese Burger: Sourdough grilled cheese on top, Cheeseburger on bottom.
Loaded Nuggets: Chicken nuggets drowning in two types of cheese with ranch and bacon.
Exploding Cheesy Chicken: A chicken sandwich exploding with mozzarella, cheesy sticks, and gooey white cheese sauce.
Brunch Burger: A burger with a fried egg and a crispy hash brown for when it's so late you don't know whether its breakfast, lunch or dinner.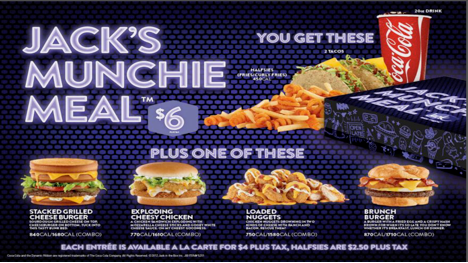 All of the meals also come with 2 tacos, halfsies (which are half curly fries and half French fries) as well.
Man, the Brunch Burger by far interest me the most, as I love a fried egg on top of a burger. Though I likely would try all of them at some point if I still ate out at night late.
So if you are out and about between 9pm and 2am and in the mood for a full meal that will surely make you feel sleepy after consuming it, try Jack's Munchie Meal™ and see what it tastes like for yourself.
Are you a fan of Jack in the Box? Like Jack in the Box on Facebook or Follow @JackBox on Twitter and let them know what you think of the new Munchie Meals.