This post contains affiliate links.
Affiliate Lights is the program which allows me to refer bloggers to use Blog Engage RSS Syndication and was put together by Brian who also runs Blog Engage.  This was a great program which allows me to promote Blog Engage and their service which I am a huge fan of and have been using myself since it was launched last year.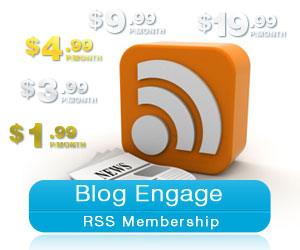 Now, Blog Engage is making the RSS Syndication Service even more enticing by offering automatic sponsorship in future Blog Engage contests based on the RSS Syndication Package you subscribe to.
What this means is that you will be far more likely to have your blog reviewed by bloggers entering contests if you are in the Business package, which will bring you even more backlinks, exposure and readers noticing your site.  This is a huge offering from Blog Engage and they are planning on giving away $3000 worth of cash prizes this year alone from contests.
It is because of this offering that I am immediately upgrading my RSS Syndication package from Platinum to Business package because this alone in addition to being able to have 10 blog feeds in 3 categories is worth the $19.99 per month.
-Justin Germino