So there are a number of different ways bloggers try to monetize their thoughts and passion for putting words into a blog post and some are passive income earning programs like banners, ads while others may be hosting affiliate links tied to certain keywords or product links to help spur some affiliate sales for those curious and clicking on the link to publish something.
Another method of potentially monetizing your blog is allowing guest or sponsored content into your blog knowing that you are accepting guest content in exchange for payment. This does require you have a site-wide disclosure to be legit and compliant with FTC as well as you may have other rules to follow to be compliant with Google ToS but is a method that should be considered if you have a blog that has aged but isn't getting a lot of views, as many guest post programs will not have as much of a requirement on number of pageviews as other factors.
Some of the best programs currently available are
---

Flyout is a platform that you can list your blog on and set your price, you will be assigned content to review and publish on your blog in exchange for your set price that you list. I have seen some decent quality articles and content match is hit and miss even when you put specific categories as the only type you accept. You have an option to review and manually post all content or allow content to auto-post, if you run a blog in some content topics you could end up making pretty decent earnings in sponsored posts leveraging flyout and with the auto-publishing feature it automates the process if you are less picky about reviewing content before it publishes. As with most systems, it does require the links in your post to be dofollow by default and doesn't support nofollow links for the content so this is always a risk in my opinion, but if you want to monetize your blog with sponsored content you will need to accept that many want the SEO value of having their link counted and recognized by Google indexing.
---
---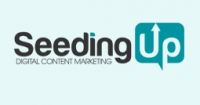 SeedingUp used to be known as Teliad and is a program where you can sign up as a publisher and sell links on your site or sell entire blog post reviews. The site will let you list your homepage or each individual page you want to put into the system to sell links on. Teliad will calculate the annual value of your page that you list and will allow you to choose the low/medium or high end of that price. Once your price is set you can request Teliad to adjust it by contacting their support directly if you feel it is not accurate. You are paid out in monthly installments for sponsored reviews, and even if you sell 1 blog post for $120, you are paid in 12 $10 installments every month as they do this to ensure an advertisers post stays up for at least 12 months. Other than that the program still has potential to make bloggers money. Just remember that you have to list every page in your site separately that you want to potentially sell links on, this is a manual process and involves using your sitemap to get all site URL's however. You can also offer Infographic spots and other text link opportunities, you can choose to only accept NoFollow sponsored opps for those who wish to remain fully Google ToS compliant.
SeedingUp will generally net you more offers for blogs with a higher PageRank like several other services.
---

LinkWorth is a service that offers bloggers the ability to sell reviews, links, ads, banners, muras or other types of advertiser requests. So far I have done a few LinkPost and LinkAds and the payouts are pretty good if you have a blog with a decent Google Pagerank. They have a recurring billing and payment system so an advertiser can purchase a LinkAd and keep renewing it monthly while the publisher's account balance keeps earning and collecting. LinkWorth pays out when balance reaches $25 and I earned enough in the few months I was with them to recommend them. I personally know a few bloggers who make hundreds per month with LinkWorth too, but here your blog needs to be a PR5 or higher to really earn more.
---
ReviewMe was a popular service that connects advertisers with bloggers. It isn't easy to get your blog approved in the system sometimes (you have to contact support if your blog is first rejected). This site also has you list your blog and set some categories, they set a default price if someone hires you directly, but you can manually adjust this. Advertisers will then come to you with offers and you will get better offers depending on your PageRank, Alexa Rank and estimated RSS subscribers. Again here, PageRank seems to be the winner in the # of opps you get. I personally know a few bloggers who make over $200 per month with ReviewMe, but since I only have a PageRank 2 blog approved in the system, I get about $40 in offers, but only usually do $20 per month at this time. ReviewMe is highly valuable if you have a blog with a good PageRank though and don't count the service out.